Unique and Rare Species of Coffees

We Work with Farmers in 100% Direct Trade Relationships

Small Farms and Proud Landholders
Unique and Rare Species of Coffees
Ancient Volcanic Soils
We Work with Farmers in 100% Direct Trade Relationships
Small Farms and Proud Landholders
Genuine Vietnamese Coffee Roasted Fresh in the USA
We have been importing and selling the top Vietnamese brands of coffee since 2005. In recent years, we have experienced issues from our imported brands with quality, grind level being too fine, etc., Using proprietary techniques we learned from Asia's top coffee producers, we spent a year developing our own line of genuine Vietnamese Coffees that are always consistent. All our coffees are roasted fresh here in the USA every week, always in stock, with whole bean options, proper grind for the Phin brewer, and blended from 100% Direct Trade award-winning beans in an all-natural process. We use genuine Vietnamese Excelsa, Bourbon Arabica, Peaberry Robusta and more to create the multi-species blends that makes Vietnamese Coffee so unique. We roast each type of bean at its optimal temperature, a process we call Harlequin Roast, because the beans will be different shades of brown based on the roast temperature. Buy with confidence! We back all purchases and we ship the same day or the next business day the order is received.
Saigon Blend Coffee Kits
Three different brew-at-home kits for enjoying genuine Vietnamese café sua da in just 5 minutes!
Visit kits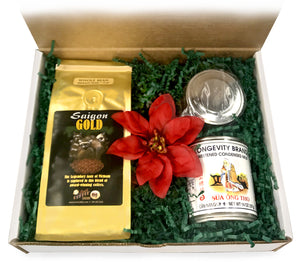 Len's Coffee
9 Jerome Street
Medford, MA USA
saigonblends@gmail.com
781-391-2255
Mon - Fri, 10am - 6pm
(onsite pickup available / touchless on request)