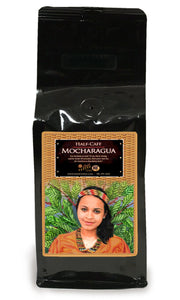 Len's Coffee
Mocharagua Half-Caff
Regular price
$8.25
Sale price
$8.95
Unit price
per
One of our most popular blends, this warm, chocolatey natural blend of Central American coffees and Indian Robusta has all the taste of a normal caffeine coffee. Hot, Iced or steeped as Cold Brew, this crowd-pleasing coffee is easy on the caffeine and won't jitter you up when you are having more than one!
Let's face it, we don't always want the full caffeine of coffee, especially late in the day. But we want all the flavor! Here is a no-compromise, Rainforest Certified premium half-caffeine coffee with wonderful chocolate and butter tones that we are sure you will agree makes no compromise on flavor.
Mocharagua Half-Caff is Nicaraguan Arabica, roasted to a slightly deeper roast point to bring out its pronounced sweet-chocolate tones without over-toasting them. Then we added Indian Natural Robusta, which has has the perfect dark cocoa undercurrent. The premium Robusta also rounds out the palate and gives the coffee a broader appeal, making this a real crowd-pleaser.
This popular Half-Caff version is made with 50% Swiss Water Process Decaf Arabica and is low in acid as well as low in caffeine.
We think you'll love this coffee. It's amazing iced, too--try it Vietnamese-style in the Phin filter!
8 oz roasted coffee, Medium/Dark Roast. Please select ground coffee or whole bean. Please note the chocolate tones of this coffee are not as intense as in our Saigon Blends or Vietnamese butter-roast coffees such as Trung Nguyen. If you prefer a milder chocolate tone, this is a coffee you will enjoy.
---
Share this Product
---