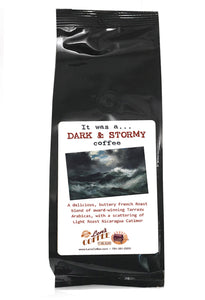 Len's Coffee
Dark & Stormy - Original and New Cold Brew!
Regular price
$7.25
Sale price
$14.95
Unit price
per
We designed a Medium Roast and a Dark Roast Blend (Dark & Stormy) for offices. For many years we sold thousands of pounds of these popular coffees. Now... offices have largely come home. So we are bringing the office coffee home too!
Dark & Stormy has a French-Roast base of St. Domingos award-winning beans, with Dark Roast Araku Valley Robusta and Costa Rica Jinotega, and Light Roast Matagalpa Catimor. Wow. It has all the wonderful toasty warmth of a dark roast without sacrificing the fruity, chocolatey, aromatic notes that define these coffees in lighter roasts!
It's an office cult favorite, now playing at a kitchen near you! Betcha can't have just one cup of Dark & Stormy :-)
NEW! At our offices at 9 Jerome Street we are launching ready-to-drink cold brew made using a version of Dark & Stormy that has been optimized for roast levels and balance that make an amazing, rich, velvety cold brew!
Now you can buy this version of Dark & Stormy for home cold brewing. (Select 1 pound bag cold brew option below - whole bean only)
8 ounces or 1 lb cold brew version, please select ground or whole bean.
---
Share this Product
---