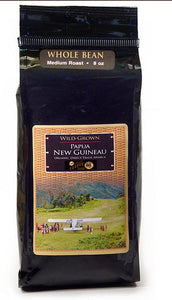 Len's Coffee
Papua New Guinea Arabica, Wild-Grown
Regular price
$8.25
Sale price
$8.95
Unit price
per
New 2021 crop! These wild-grown, triple-picked (only the ripe beans each time) from the Jiwaka Province atop the Waghi Valley are extraordinarily "clean" and have that superb Papua Highlands taste profile we all know and love so well, blended with Typica and balanced for gentle but pleasing acidity, slight hints of melon, citrus and tea. One of our top sellers in every market.
This is an incredibly delicious coffee and one of our favorite Papua crops to date. Flown to port by small airplanes, from the remote PNG highlands!
8 ounces per bag, please choose ground or whole bean. Medium Roast.
More Information
.
The taste is stunning. The varieties collected are Typica, Bourbon and Arusha Arabicas. The bushes grow largely wild and no pesticides are chemicals are used. Exceptionally low-acid, richly aromatic, and full-bodied, with notes of chocolate and fruit. 
All the coffee cherries are pulped, washed, soaked and sun dried to 11 percent moisture content. The coffee is then stored unhusked for transportation to a central processing mill in Goroka, approximately 120 miles away in the Eastern Highlands Province, where it's hulled for shipment. To preserve quality, the coffee stays in the highlands — where it's far less humid — and is transported another 200 miles by biplane to the port city of Lae, only just in time to meet the vessel.
---
Share this Product
---