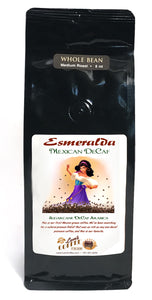 Len's Coffee
Mexico Esmeralda Natural DeCaf
Regular price
$7.95
Sale price
$8.50
Unit price
per
Esmeralda variety coffee is grown in the Pluma, Oaxaca region, characterized by rich volcanic soil created by a long extent of ancient volcanoes. Small farms grow this mix of Typica, Bourbon, and Pluma Hidalgo varieties to give a unique flavor profile to coffee marketed under the Esmeralda name.
We have never carried a Mexican coffee before, partly because most originate from the Chiapis region, and seldom meet our taste profile preferences and quality standards. This coffee from the more Westerly growing region in Mexico is uniquely different and wonderful to behold - large, perfect beans with a fragrant aroma even when green. We jumped at the chance to try an Esmeralda natural decaf and we fell in love with it immediately.
Sugarcane DeCaf uses alcohol fermented from sugarcane, with no chemicals or other solvents. It does not disturb the natural taste profile of the coffee and this process seems to produce some of the finest decaf coffees we have ever tasted (like the Colombia DeCaf we have used in our decaf and low-decaf blends).
We performed our usual focus group test for decaf coffee - we did not tell our tasters that the coffee had been decaffeinated. They all loved it and had praise for its rich taste... and only then did we let them know it was a decaf :-)
8 ounces, please specify drip grind or whole bean. Roast is a combination of two slightly different roast styles that impart basically a Full City roast profile (Full City is in-between Medium and Dark). 97% caffeine-free.
---
Share this Product
---