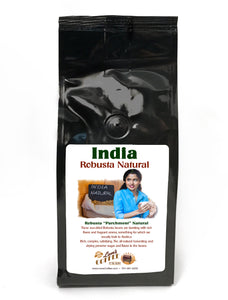 Saigon Blends
India Natural Robusta
Regular price
$6.75
Sale price
$7.25
Unit price
per
These Robusta "parchment" beans are well-sorted and dried in the sun for dense, delicious flavor and surprisingly fragrant aroma. We are loving it. We're offering them in a "Chocolate Roast" (like medium but with an extended time after "First Crack" to develop their natural chocolate tones) and Harlequin Roast (in this blend, the Harlequin is 2/3 Dark and 1/3 Light/City Roast).
Robusta in India is grown in rich soil at altitudes higher than typical in the rest of the world, and lovingly cultivated to specialty coffee cupping standards. The parent plants were likely imported into India over a century ago from Sumatra, and they have the same chocolatey profile as beans brought into Indochina (including Vietnam) by French Jesuits circa 1890-1920. We are offering this coffee as a stand-alone single origin of exceptionally quality, and also creating some new blends in which the rich, earthy flavor of these beans will shine.
This Robusta offering is sourced from the Sakleshpu and Coorg districts in Karnataka, India. Coffee is produced on high-altitude (~3700 feet) family-owned farms, many of which have been owned by the same family for generations. The region is extremely biologically diverse, with over 5000 species of flowering plants and 500 species of birds. We always source high-altitude Robusta, grown as specialty coffee, and this is why our Robusta offerings are equal in taste and quality to most specialty Arabicas. These beans have been sun-dried on outdoor beds.
Roast Levels: Light (our "Light" on Robusta is similar to a City Roast on some charts), our Chocolate Roast, which is a small step darker than medium, and features a slow, extended development period after First Crack that brings out the maximum natural Chocolate tones of these beans, and Harlequin Roast (blend of Dark with Light/City).
8 ounce bags, please choose ground or whole bean.
---
Share this Product
---