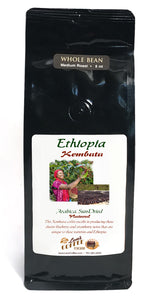 Len's Coffee
Ethiopia Kembata Blueberry Arabica
Regular price
$8.50
Sale price
$9.25
Unit price
per
We have the berries! In the coffee industry we're always looking for those rare Ethiopian coffees with the wonderful blueberry notes. This Kembata coffee is sun-dried with the fruit on, giving it extraordinary depth, strength, strong fruity notes of both blueberry and strawberry, with a hint of chocolate on the back palate. Len fell in love with this coffee the moment he roasted it with his special extended-Light Ethiopian roast profile, which brings out the maximum flavor and strength of the fruity notes.
This is just a wonderfully rich coffee with initial bite and round, fruity profile that takes your tastebuds on a pleasure cruise. Excellent after-dinner coffee! Special intro price.
8 ounces, please choose whole bean or drip grind. Roast level: Our Ethiopian Fruity Roast, somewhere in the neighborhood of City (between Light and Medium).
---
Share this Product
---