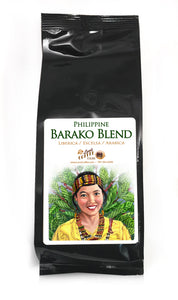 Len's Coffee
Barako Blend - Philippine Liberica with Robusta and Excelsa
Regular price
$11.75
Sale price
$11.95
Unit price
per
(Out of stock, sorry!)
Literally translated from Tagalog (the language of the Philippines), "barako" means "wild boar". In common usage, however, it can refer to the male of any species, especially studs, and extra-especially studs that share the strength and ferocity of the wild boar... and so "barako" came to mean manly, macho, fearless and tough.
"Kapeng Barako" is the Tagalog name for the specific variety of Liberica that grows on the high mountain slopes of the Philippines. Its name thus has a delightfully layered meaning: the wild Barako boar is known to feed on its leaves, the plant is much larger and tougher than other coffee species to harvest. The strong, wiry sugar cane workers of the Philippines are called "Barakos" locally and they like their Barako coffee extra dark and sweet (brewed campfire style in a large pot). Recently, due to the rarity of Liberica, "Barako" coffee has fallen into common usage in Philippine coffee shops as a term for any strong coffee. They offer "regular" coffee and "barako" coffee, which is just bolder or darker. We hope that in time the Liberica will make a comeback in awareness.
Our Barako Blend is one of our oldest recipes, one of Len's personal favorites, and one of the best ways to enjoy the interplay of Liberica with a supporting cast of characters. We start with a generous proportion of Liberica, add high-altitude Robusta to punch up the body and the caffeine, and round it out with rare Excelsa, a related species to Liberica. The result is a bold, smoky, and robustly fragrant cup that fortifies you for whatever challenges you face today, whether it's rampaging wild boars or eight-hour budget meetings.
Liberica is a vanishing species of coffee that is only now being brought back from the brink of extinction, and your purchase supports conservation of both the coffee and the forests where it grows.
8 oz bag, please select ground or whole bean.
---
Share this Product
---