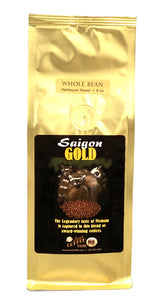 Len's Coffee
Saigon Gold Master Blend
Regular price
$13.95
Sale price
$15.95
Unit price
per
Yes, we dared! After a year of R&D and experimentation we released our own flagship Vietnamese-roast-style coffee! Chocolatey, buttery, smooth, low-in-acid profile with excellent persistence. This is a masterful blend of 4 bean origins at 3 different roast levels with a tiny amount of organic flavor extracts to simulate the civet coffee profile that made Vietnam famous.
Arabicas, signature peaberry Robusta from the Vietnamese highlands, and Vietnamese Excelsa all combine to create this complex and coffee that is wonderfully comforting hot but explodes in flavor when iced. Fabulous as espresso also. We roast this coffee every two weeks... it always sells out! Several USA beer breweries use this coffee in their "Civet coffee beer" because it delivers a taste profile as smooth as Kopi Luwak.
Please note: We have renamed this product from Saigon Legend to Saigon Gold to distinguish it from other products that had names similar to "Legend" and "Legendee". Our original packaging is shown in the supporting image thumbnail to the left.
Available in whole bean and ground. Please select drip grind or bean below. 8 ounce bag, Our artisanal Harlequin Roast with 3 different temperatures and 4 different species of coffee.
Caffeine level: Medium-High (approximately 130 mg per serving)
---
Share this Product
---