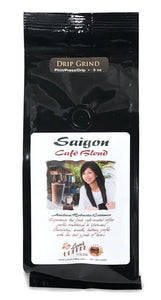 Len's Coffee
Saigon Café Blend - Artful Balance of 3 Species of Beans
Regular price
$8.95
Sale price
$9.95
Unit price
per
A true traditional Vietnamese-style blend with signature Peaberry Robusta and premium award-winning Arabica and Catimor beans. That chocolatey flavor you love is here in a coffee we fresh-roasted ourselves here in the USA. All natural, vegan, premium coffee with an amazingly smooth, chocolatey, buttery profile hot or iced.
We love having control over the grind... our customers enjoy brewing with the Phin, French Press and drip machines, and most Vietnamese coffees do not do equally well in all three. Our "perfect grind" will deliver an optimal 4-5 minute brewing time in the Phin and works well with press or drip machines (coarse drip is the setting). Or choose whole bean to adjust for the grind you want. Our dry process will not clog your grinder or grind-and-brew machine like traditional Vietnamese whole beans tend to do.
We can't stop drinking this coffee ourselves. We know that everybody will love it!
8 oz bag, choose coarse drip or whole bean.
---
Share this Product
---