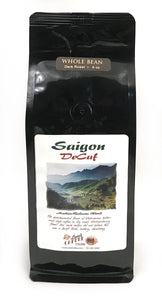 Len's Coffee
Saigon Blend DeCaf
Regular price
$7.95
Sale price
$8.95
Unit price
per
We are the only coffee merchants in the USA to offer full DeCaf coffee with premium high-altitude Robusta from Dalat, Vietnam. This is an extraordinary combination of Vietnamese Arabica and Robusta decaf beans in a medium-dark roast, with the signature chocolatey, buttery taste profile of Cafe Sua Da.
Sourced through our partners in Dalat, these beans are premium quality, 100% direct trade, all-ripe beans with a smooth, low acidity. Our taste testers really could not determine which samples were decaf!
8 ounce bags, please choose drip grind or whole bean. The drip grind is perfectly sized for Phin and French Press Brewing, and works well in drip machines. 98% caffeine-free.
---
Share this Product
---