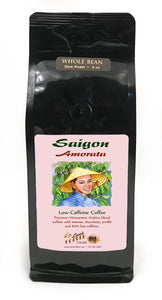 Len's Coffee
Saigon Amorata Low-Caffeine Coffee
Regular price
$8.95
Sale price
$9.75
Unit price
per
At last! When Trung Nguyen discontinued the Passiona, many hearts were broken, as this was a much-beloved coffee. We created a Vietnamese bean blend that was also low in caffeine and had chocolate tones, but it wasn't the same... until now. Amorata is reborn in Vietnamese butter-roast style, produced by us here in the USA and nobody can take it away! :-)
A blend of Arabicas and Excelsa, low in acid and with approximately 40 mg of caffeine per serving, as compared to an average of 100 mg per cup. Smooth and chocolatey, with notes of butter and caramel. Excellent persistence of taste and ices beautifully. This is our most popular summer iced Vietnamese coffee... the chocolatey taste and lower caffeine let you enjoy a whole lot of delicious dessert-like coffee refreshment on a hot summer day.
This is also the perfect after-dinner hot coffee for people who are sensitive to caffeine... but it is NOT a decaf, so if you are VERY sensitive to caffeine, this is not a good choice. But for people who want to drink a lot of excellent coffee and not load up on caffeine, this is The One.
Please choose drip grind or whole bean. 8 ounce bags, dark roast profile.
---
Share this Product
---