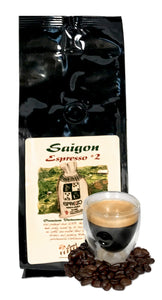 Len's Coffee
Saigon Espresso #2
Regular price
$8.25
Sale price
$8.95
Unit price
per
When we became the authorized distributors of Trung Nguyen coffees in 2005, one of our favorite blends was the Espresso #2 whole bean blend. It was drier than the Creative coffees and  ground well and extracted beautifully, with high levels of crema and body. The persistence and broad palate appeal comes from the blend of three beans - Arabica, Robusta and Catimor. The Espressos  #1 and #2 were discontinued by Trung Nguyen in 2009 and we have pined for them for years... but we pine no more!
We love the gentle citrus note and bright tones of the Catimor in this blend,and the Catimor also contributes to the crema... with both Robusta and Catimor in this blend, the crema is high and fresh and full of complex and delightful notes. The overall chocolatey tone brings warmth to this sharp and pleasing combination.
This espresso has a very bold profile black, but plays well with cream and sugar for a sweet, balanced treat. This coffee has become a local cult favorite among our Boston area visitors. You love espresso? This is on your bucket list.
8 ounce available in whole bean or espresso ground. Please select.
---
Share this Product
---