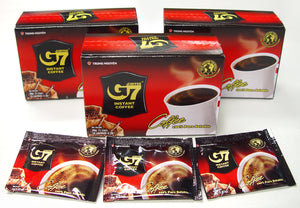 Trung Nguyen
G7 Black Gourmet Instant Coffee
Regular price
$3.25
Sale price
$3.75
Unit price
per
Black G7 for those who prefer their coffee black, or simply prefer to add their own cream and/or sugar to their coffee. The G7 Black is also able to dissolve in cold water for an iced coffee. Our taste tests of over 40 brands, our customer comments, and G7 Black's rise to Asia's top-selling black instant coffee support that this is the best black instant coffee in the world.
It's the best because it is fundamentally different... while USA instant products are brewed and then freeze-dried, meaning you are brewing it for the second time when you use it, G7 Black was the world's first dry-roast process instant coffee. It is not pre-brewed! As a result it is fresher, more flavorful, and smoother than any other style of instant coffee.
15 servings per box. Each sachet makes 7-8 ounces (or to taste).
---
Share this Product
---