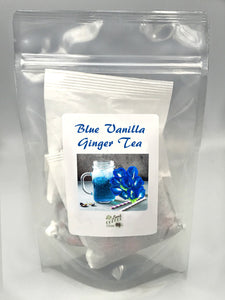 Len's Coffee
Blue Vanilla Ginger Tea - Made for Icing!
Regular price
$5.00
Sale price
$5.95
Unit price
per
"Blue Vanilla Snow Cone meets Jamaica Ginger Beer" is how Len describes this tea, but this falls so short of the delight that this tea inspires. Even hardened "I don't like tea' people are drinking 2 or 3 cups of this iced, it is really refreshing, comforting and compelling!
It's a simple blend of Vietnamese ginger, Vietnamese Organic White Tea, Vietnamese Organic Pea Flowers and vanilla powder in perfect balance. The delightful blue hue is an eye pleaser, and comes from the incredibly health-promoting pea flower natural blue color.
The ginger is mild and does not bite, but is nevertheless quite strong and present in the flavor and aftertaste.
You really have to try it to appreciate how wonderful it is. And that is easy to do at this great introductory price. 
Pouch of 6 individual teabags, each make about an 8-10 ounce serving. 
More Information
Ginger has powerful anti-inflammatory and antioxidant effects, according to research. For instance, it may help reduce oxidative stress, which is the result of having an excess amount of free radicals in the body.
Most of butterfly pea flower's benefits are due to its supply of antioxidants, which are responsible for its signature blue color. It's a great source of antioxidants, including:
anthocyanin, such as ternatins, some of the same types found in

 

superfoods

 

like berries, cherries and red wine
kaempferol
myricetin glycosides
gallic acid
p-Coumaric acid
And of course, white tea is super-high in polyphenols called catechins.
---
Share this Product
---