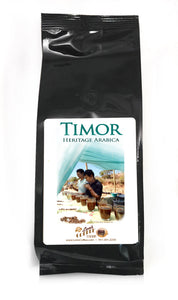 Len's Coffee - Local
Timor Organic Heritage Arabica
Regular price
$7.00
Sale price
$8.95
Unit price
per
Our new Organic, Fair Trade Timor has been a huge hit at our tastings and local sales and now we have listed it on the website. Natural notes of cocoa, dried fruit and vanilla and very rich nutrient-dense taste profile make this a comfort, go-to coffee that is wonderful hot or iced.
The Timor Hybrid (Hibrido de Timor) began growing on the island in the 1920s as a hybrid of Arabica and robusta coffee; it is extremely disease-resistant and high-yielding. Out of this sprung the Catimor variety, and eventually Sarchimor too. Farmers around the world have worked with Timor crossbreeds and created many of the varieties we know and love today. This coffee is one of the most important all-time genetic contributors to specialty coffee.
We have brought in enough of this coffee to last through the summer and might be able to bring in more later, so we hope to work this bean into several new blends as well.
The roast level we chose for this bean, after extensive R&D, we call "Chocolate Plus". It brings out all the best flavor notes this complex bean has to offer. "Chocolate Plus" is one step darker and longer than our "Chocolate Roast". It is still on the high end of a Medium roast in flavor.
The Cooperativa Cafe Timor (CCT) works with very small farms in East Timor; most land owners own less than a hectare of land. The CCT was established in 1994 with the help of the USDA and NCBA. and in 2001, the cooperative obtained Fair Trade certification. The farms are located in Maubesse, an area of high altitude and a sub-district in the Ainaro district; Atsabe, in the Ermera district; the Lequisa district; and the Aifu region. The coffee from East Timor was originally planted over 400 years ago by Portuguese colonists. However, after an epidemic of coffee leaf rust in the 1890s, new varieties were brought in and crossbreeding with Robusta occurred to create a disease-resistant coffee varietal.
The new Hibrido de Timor that resulted is also poised to survive climate change well, as it prospers in a variety of sunlight and drought conditions.
8 ounces, please choose Drip Grind or Whole Bean.
---
Share this Product
---