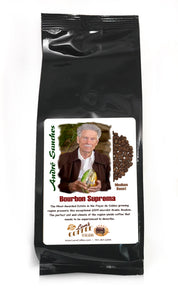 Len's Coffee
Brazil Volcano Coffee: André Sanches Bourbon Suprema Microlot
Regular price
$8.00
Sale price
$8.95
Unit price
per
Usually we are unable to get this André Sanches Estate microlot coffee from Brazil Volcano Coffee Company, as its many international awards make it in high demand in the 9 countries the producer exports to. But this year we acted quickly and secured 1000 pounds of this incredible Arabica Bourbon, and it surprised us by arriving last week, in time for the current sale.
Normally Bourbon needs "rest" after roasting to achieve full expression, as much as 2 weeks or more, but this microlot is superb directly from the roast... although true to form, it gets better day by day and surprises us with more depth and more subtle tones. Experience these first roasts with us! We have found three roast levels/combinations that are our personal favorites, so we are offering your choice, or a combination of all three - Light (a small step under City Roast in this case), Medium, and a Harlequin Two-Temperature Roast that has a base of Dark Roast with the perfect measure of Light Roast to preserve the brown sugar and spicy tones of the lighter roasting.
This crop is an odds-on favorite to win another Golden Bean USA and most likely Golden Bean Australia as well, as have three previous seasons. The Light Roast is our top-selling single-origin coffee in Light Roast.
Bourbon (pronounced Burr-bone) originated on the west coast of Africa, and was first "discovered" on the island of Reunion, and is one of the earliest Arabica natural mutations, preserving many of the original Robusta genes from the earliest Ethiopian progenitor coffee strains, which are now known to have been primarily Robusta in their gene makeup. It is prized for its buttery mouthfeel, rich body, back-palate persistence, and smooth finish.
8 ounce bags, please choose ground or whole bean and your choice of roast.
---
Share this Product
---