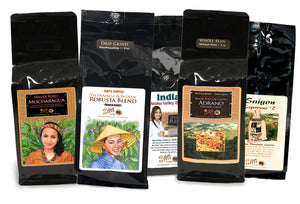 Len's Coffee
OOPS Coffees! - FREE
Regular price
$5.00
Sale price
$7.95
Unit price
per
Just add your selection to your cart and use the coupon code FREEOOPS at checkout. The coffees are all listed at $5 but will be free when you use the coupon
Learning a new roaster technology is a challenge. Len is translating the roast profiles from our Bellwether roasters to the new Artisan fluid-bed roaster and things don't always come out as expected... which is actually what IS expected. It takes time. These slightly-too-light or a-little-too-dark roasts have no place on the main website, where people expect the same profile every time they order. So we give these tests roasts away FREE with any order over $15.
Sometimes we also have bloopers with packaging... a new employee might forget to apply labels and then we wind up wondering the next day "What IS this coffee? I don't know, do you know?" We could spend time brewing it and figuring out what the unlabelled bags contain but we'd rather just give it away and move on. That's how we roll... it's fun to give away great coffee! 2022 is a year of chaos... but also an opportunity to ramp up the fun.
And sometimes Len just sees some lonely green beans leftover from other lots and thinks "I want to roast these beans and liberate them from their greenism." (See our Motifs below.)
Because none of this is planned, these offerings change constantly. You can select your preference from the list below and hopefully we can give you exactly what you chose, but we might have to go for the closest thing in stock at the time.
---
Share this Product
---