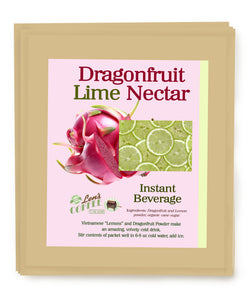 Len's Coffee
Dragonfruit Lime Nectar, Instant Drink Mix
Regular price
$3.00
Sale price
$4.00
Unit price
per
We're loving our Dragon Fruit and Lemon powders from Vietnam. And we found another fun way to enjoy them - they make an amazing, velvety iced drink that is super healthy and addictively delicious.
The Vietnamese Lemon is similar to a Key Lime in taste, and just goes super-well with the Dragon Fruit powder and a small amount of organic cane sugar.
Just tear open the packet and mix in 6-8 oz water and stir thoroughly, then add ice. The amount of water and/or ice is a matter of preferred tastes and strength.
Chock full of antioxidants, fiber and healthy good things... but you would never guess from the decadently delicious taste.
We're making a small package of 4 packets available at a special price to try. 4 packets per package for $3.
---
Share this Product
---